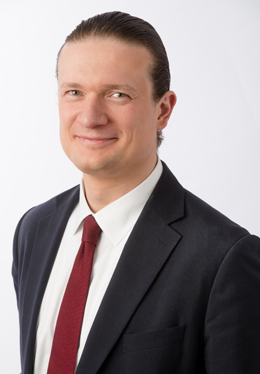 Andrey Lenvalsky
Vice President, Investments and Capital Markets, Management Company «Delo» since March 2020.
Andrey Lenvalsky started his career in 2007 in the investment banking group of Troika Dialog (presently Sberbank CIB).
From 2010 to 2011 Mr. Lenvalsky worked in the oil and gas group of the investment banking department of Renaissance Capital, one of Russia's leading independent investment banks.
From 2011 to 2020 Andrey Lenvalsky worked in the global corporate and investment banking division of Bank of America Securities, a leading global financial institution. At BofA, Mr. Lenvalsky advised major Russian and international companies in transport, infrastructure and natural resources sectors on M&A, equity and debt placements.
Mr. Lenvalsky joined Delo Group in 2020.
In May 2021 he was appointed as Non-Executive member of the Board of Directors of Global Ports.
Born on the 3rd December 1984 in Krasoyarsk.
Graduated with honours from the National Research University Higher School of Economics with a degree in international business. Andrey Lenvalsky is the HSE Alumni Awards 2017 winner in the Corporate Business nomination.