6 June 2019
Meeting of Sergey Shishkarev and Soren Skou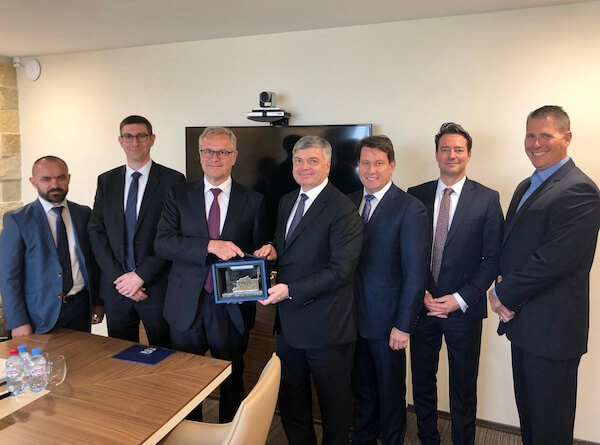 On the 5 th of July 2019 Delo Group and A.P. Moller-Maersk held a meeting among Delo Group President Sergey Shishkarev, A.P. Moller-Maersk Group CEO Soren Skou and Global Ports CEO Vladimir Bychkov. The development projects of Delo Group were presented: the launch of the deep-water berth 38 at NUTEP Container Terminal in Novorossiysk and development project of KSK Grain Terminal. The participants also discussed the operating results of Global Ports and joint projects of Maersk and Global Ports.
Sergey Shishkarev pointed out the strategic importance of the cooperation between Delo Group and Maersk Group: "Delo Group developed on the Maersk' volumes and our companies in Novorossiysk developed alongside Maersk for 25 years. Now we came to St. Petersburg and became partners at Global Ports. It is a great honor for us as well as a great responsibility. We cherish this relations and reputation that Maersk kindly shares with us. We will gladly learn from our partners further and we will do everything necessary to reach maximal results".
The meeting of the key executives of the major transportation and logistics holdings was held in the framework of the signing ceremony for cooperation agreement between the world's largest container shipping company – Maersk Group and the leading operator of container terminals in the Russian market – Global Ports.
The Danish company Maersk together with IBM developed an innovative blockchain platform TradeLens for digital supply chains management and efficient cooperation among all members of the international economic activity. The technology allows tracking containers in the online mode fixating its status and condition, which simplifies logistics and customs procedures optimizing time and costs expenditure.
On the 5 th of June Global Ports joined the test run pilot project of TradeLens in St. Petersburg.
Sergey Shishkarev congratulated Global Ports and Maersk on establishing the high- tech cooperation, which will spread throughout Russia after the successful test-run. This will allow Russia to take the leading place in the international digital container cargo supply network.
A.P. Moller-Maersk Group CEO Soren Skou welcomed everyone at this historic event: "We're here today to sign an agreement that will change and that is already changing the global power dynamics in the container shipping market. When Peter the Great established St. Petersburg 300 years ago he was talking about opening a window to Europe. And we are now opening a window to the digital world, the world of e-contracts and new digital technologies. We're launching the new platform that is based on blockchain technology and is called TradeLens. This is a joint product developed by Maersk and IBM. It already operates in 20 countries across the world and now we're launching a pilot in Russia. We are sure that Russia will take the maximum advantage of the potential of this technology for it will serve for the benefit of the companies working on the Russian market".